:::
Pre všetkých milovníkov rozkvitnutej Prahy (všetci na Petřín!) mám večerný program na 25. apríla, 20:00. Budeme s Tomášom Luskom ako LA VA hrať náš prevažne akustický repertoár na čítaní veľmi kvalitného on-line literárneho almanachu WAGON.
Vystúpia autori Richard Klíčník, Petr Kukal a Josef Straka. Ďalšie info na plagáte!
Tešíme sa.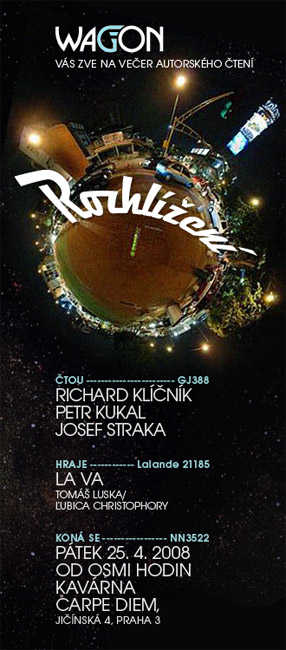 :::
For all those who would accidentally appear in Prague (in bloom!), my mini band LA VA is going to play a concert within a poetry reading of a very good quality online literary magazine WAGON.
:::
PS: This is a musical RIDDLE. Who knows the name/artist of this song?

"He´s the one, he likes all our pretty songs and he likes to sing along and he likes to shoot his gun, but he don´t know what it means and I say Yeah."